Every day, countless job openings flood the job market, but let's be honest: how many truly stand out to the top talent you're searching for?
In today's fiercely competitive workforce market, finding the best candidates is more challenging than ever, and simply offering a high salary doesn't cut it anymore.
Today, top talents want more. They seek workplaces where they 
feel valued 

can maximize growth opportunities 

can attain work-life balance 

can build genuine work relationships

In human resources and talent acquisition, talent attraction and retention is about getting top candidates to apply to your company and ensuring they're excited about the opportunities you offer. 
But how can your organization attract these high-performing talents? The answer lies in having effective talent attraction strategies. Talent attraction is more than just hiring people to fill positions; it's about luring in the best and most qualified individuals who will contribute to your company's success.
In this article, we'll offer key strategies, helpful insights, and practical methods to help you attract top talent and keep them thriving within your company.
What is talent attraction?
Talent attraction is the ability of a company to lure in the most desirable and qualified applicants. To do this, HR managers must develop strategies that make their company an attractive place to work. The process is usually implemented in the initial stage of the recruitment process. 
Talent attraction differs from other HR processes like hiring or headhunting; it's more than just finding applicants to hire for open roles. Talent attraction means getting noticed by, engaging with, and hiring people with the right skills, mindset, and cultural fit for your company. 
Today, candidates choose where they want to work, not vice versa. So, companies need to stand out. Excellent talent attraction strategies will increase your chances of getting flooded with qualified applicants to fill your company's job vacancies who also fit its culture.
Why talent attraction matters more than ever
In such a competitive workforce, the search for the best candidates is becoming more difficult by the day. In fact, according to research by McKinsey & Company, 49% of hiring managers admitted that attracting suitable candidates is a major challenge, and 45% are concerned that competition for high-performing talent has increased. 
This means having the right strategy is crucial for attracting more talent that can stand the test of time. Here are three more reasons to believe talent attraction matters more than ever:
1. Changing workforce expectations
In the past, decent benefits and a competitive salary were enough to grab candidates' attention. But not anymore. A study by BCW Change found that employees, especially Millennials (Generation Y) and Generation Z, prioritize a positive workplace culture as a fundamental need. 
Moreover, according to EY Global, 54% of employees would consider leaving their company if it refused to offer flexible working arrangements in some form. Highlighting that your company caters to these new workforce expectations in the company description can attract more top talent.
As HR managers, keeping up with modern employees' evolving needs and preferences is critical to attracting them to work with your company. Adopting new tools and solutions like Healthee's healthcare navigation platform can be a great way to highlight how your company is improving employees' experience and empowering them to manage their benefits quickly.
2. Skills shortages
According to the 2023 Global Talent Shortage report by Manpower Group, 77% of employers worldwide expressed difficulties finding skilled talent in 2023. This underscores the need to implement effective talent attraction strategies to bridge skill gaps. 
3. Talent retention
Talent attraction and retention go hand in hand. When you get the right people to join your company, they will likely stay longer because they align with your company's mission, see growth opportunities, and experience a great workplace culture. 
Unlocking secrets: Key strategies and tactics to attract top talent
Hiring the right people for your team starts with strategic planning. Here are some key strategies to help you attract the right talent for your team:
1. Integrate long-term goals with short-term objectives
You are most likely to attract the best candidates when they know there is a bright future ahead of them in the company. So, consider how you can incorporate your company's long-term goals while addressing the company's talent shortages. Talk about employees' promotional opportunities, bonuses, and other perks that will make them want to stay with your company long-term.
2. Create a personalized arrangement for each candidate
Not all applicants want the same thing. The best way to attract top talent is to find a way to tailor your plans for them should they get hired. This strategy includes specific benefits like health insurance, training, and development opportunities. Doing this will make them feel like you care about them as individuals rather than as numbers.
3. Build a strong employer brand
In today's digital age, everything can be found online, and having a bad reputation is a big turn-off for employees. 75% of employees would not take a job with a company with a bad reputation. In contrast, a company that is considered highly reputable receives 50% more applications from top talent. 
So, your company must portray a positive image if you want to catch highly skilled candidates' attention. Offering competitive compensation packages, flexible work arrangements, and career growth opportunities can build a strong company brand. It will help you get more applicants and improve the whole recruiting process. 
4. Create systems for quick communications
Nothing is more disheartening for candidates than waiting weeks for your feedback only to find they aren't the right fit. Having consistent and quick communication can leave candidates with a positive impression of your company, attracting more candidates to apply. 
5. Implement diverse hiring processes
Glassdoor's Diversity and Inclusion Workplace Survey revealed that 3 out of 4 job seekers consider a diverse workforce a significant factor in accepting an offer. Consider diversifying your hiring process beyond your current DEI (diversity, equity, and inclusion) initiatives. You can highlight these changes in your employer branding activities and conduct a job posting audit to remove unconscious biases. 
You can also try doing anonymous interviews or blind resumes where you remove any information, such as the name, birthday, race, and religion, that may lead to a biased applicant assessment. 
6. Utilize data to make informed decisions
Use data and analytics to your advantage! You'll get plenty of insights about what worked and what didn't in your past hiring processes. Use this data to adjust your talent attraction strategies so that your goals and the candidates you're planning to hire align with your company's vision.
7. Leverage recruitment automation and tools
You're missing out if you're not incorporating technology into your HR processes. Using recruitment automation and tools will not only make your life easier but also make your company more appealing to candidates. Employees today prefer innovative companies that leverage technology to improve their employees' workplace experience.
8. Upgrade your benefits
We all want to be treated like we're worth it, and so do your potential employees. They want to imagine themselves being showered with appreciation and perks. Enter, benefits! 
Offering employees great benefits sets you apart and even gets your current employees talking about how much they love where they work. 
Healthee's healthcare navigation platform can help set you apart by prioritizing employees' health and finances. This all-in-one AI-powered app allows employees to access their health benefits, evaluate and customize their coverage, and find the best health services for the best prices, empowering them to take control of their health (while also reducing administrative tasks for HR managers).
Conclusion
As recruitment challenges and changing employee preferences continue, HR leaders are stretched to ensure their companies meet the needs of modern-day candidates. Moreover, highlighting that they can grow in your company and that you care for them will make you stand out.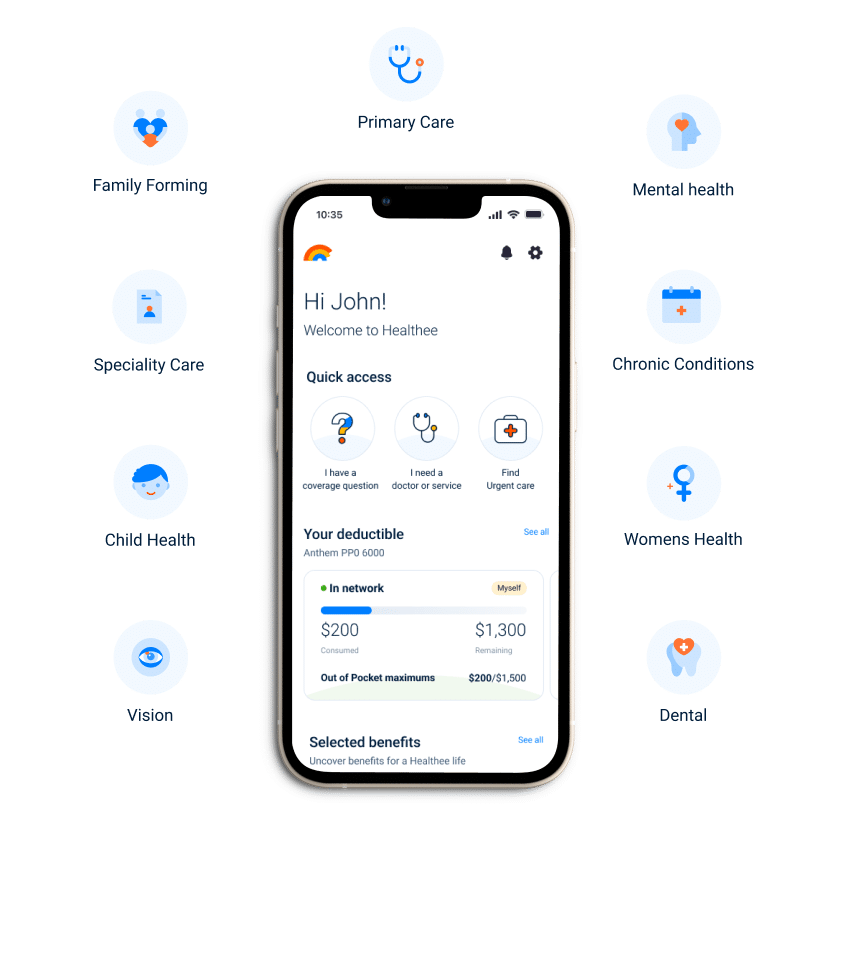 One of the qualities applicants look for in their workplace is that it cares about their well-being. New tools such as the Healthee app can help your company become the ideal workplace for future hires by empowering them to take charge of their health benefits. 
Book a demo to learn how Healthee can be an excellent tool for your business.