Meet Alexa. She accepted a job at a tech company that offered top-notch long-term disability benefits and even covered her pre-existing conditions. 
Fast forward to three months later. Alexa was denied those benefits. The reason? She had missed completing a health questionnaire during the enrollment process. 
What does this tale tell us? Merely offering employee benefits isn't enough. It's equally important to onboard employees effectively, ensuring they understand the value and procedures required to access those benefits. 
But how can employers ensure effective benefits communication? 
By implementing clear strategies and using the right tools and resources, employers can establish a seamless flow of information, empowering employees to make informed decisions about their benefits.
This article will walk you through the best practices for effectively communicating employee benefits. We'll also explore a game-changing technical solution that can help HR professionals streamline the benefits communication process and enhance the overall employee experience.
The importance of clear employee


benefits communication
Employees know they can access their company benefits whenever they need them. However, according to the 2021 Health and Benefits Leadership Conference presented by Human Resource Executive, 50% of workers do not understand their benefits' full coverage, while a staggering 80% don't even open communications related to them. These numbers show that effective employee benefits communication is critical in today's corporate landscape.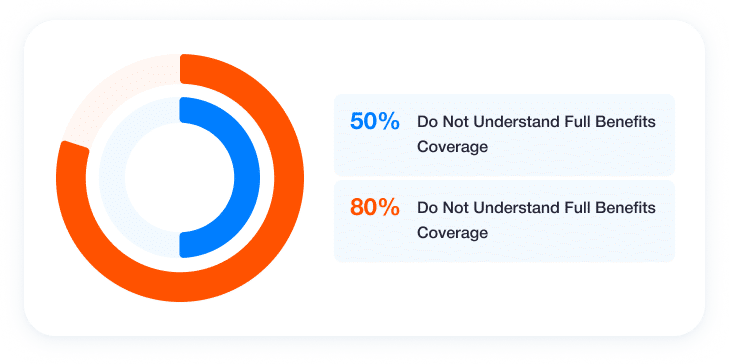 Here are the advantages of prioritizing clear and comprehensive benefits communication:
Employees feel more valued
As an HR manager, finding just the right ways to explain benefits can affect how your employees perceive the company. They feel valued, appreciated, and cared for when adequately informed of their benefits, increasing job satisfaction and loyalty to the company. Indeed, a full 78% of employees would stay with their company if they felt satisfied with their benefits. 
Employees can make better-informed decisions about their benefits
When you communicate benefits coverage to your employees, they can decide how to use it to the fullest. According to MetLife's 2022 Employee Benefits Trends Study, employees are 101% more likely to trust your company when they clearly understand their benefits package. 
Employees are more satisfied with their benefits
According to research by LIMRA, only 4 in 10 employees believe their employers communicate about workplace benefits well, and more than a quarter believe they communicate poorly. Effective and frequent communication of benefits is essential to bridge this gap. Plus, when they get easier access to explore their benefits, they feel motivated to take advantage of them.
Prevents legal and liability issues
Failure to communicate benefits correctly can expose your company to legal and liability issues. Therefore, all details of benefit coverage must be written down and properly explained to ensure employees understand their rights to receive benefits from your company.
Best practices in employee benefits communication
In the wake of the post-pandemic landscape, businesses are witnessing a shift in employee preferences regarding their benefits and how they should communicate them. 
For example, the rise of remote or hybrid work models means more employees use digital channels, bring in new technologies, change employee groups, and even change how the company functions.
To help manage these changes, here are some best practices to communicate employee benefits effectively: 
1. Incorporate technology-based communication
Aside from giving you the right apps to improve employee productivity, the rise of specialized platforms also allows employees to see all their benefits information in one place. 
You can also leverage AI-powered tools like Healthee, which offers a health assistant to answer all benefits questions faster. All these tools should be accessed via mobile devices so employees can easily search for their benefits in just a few clicks.
[Book a Demo with Healthee]
2. Use personalized communication across various employee groups
The current workforce is multigenerational and diverse, so their preferences in communication and benefits differ. 
Make personalized benefit offerings using data-driven insights for each employee based on their needs and preferences. Craft personalized messages for different employee groups based on the updates or announcements that matter most to them.
3. Engage employees using multimedia communication channels
According to an article from Notre Dame of Maryland University, different generations prefer various forms of communication. 
For instance, Baby Boomers prefer phone calls and face-to-face interactions, while Generation X prefers email or instant messaging. On the other hand, Millennials prefer reaching them through digital messaging apps, whether over the phone or computer. Interestingly, the youngest generation, Generation Z, prefers face-to-face conversations.

Understanding what communication channel works for each generation helps you identify how receptive they will be to different media types like videos, infographics, webinars, virtual Q&A, and face-to-face meetings when communicating their benefits.
4. Invest in mental health and wellbeing benefits 
Amid the uncertainties in the post-pandemic world, more employees seek support on mental health and wellbeing benefits than ever before according to a survey by the American Psychological Association. A full 81% of those responding to the survey said they want to pursue job opportunities supporting mental health benefits. Additionally, 93% of employees working for companies with mental health insurance coverage say the organizations effectively support their wellbeing.
5. Encourage feedback loops and ongoing participation
Employees value being heard in the workplace. Therefore, you should not only communicate benefits effectively but also make space for input from your employees through surveys, focus groups, and feedback platforms. These options allow you to assess their knowledge levels and determine how to communicate their benefits accordingly.
6. Establish open communication
Open communication will help employees understand their benefits better. Provide transparency on how much the company invests in these benefits and what can change in the future. 
Make sure you use language that is simple yet comprehensive. Don't use jargon or acronyms that only your team and benefits providers understand. 
Use visual aids like infographics and charts so the details of the benefits are visually appealing and engaging. If you're using email blasts or newsletters to communicate benefits, craft compelling subject lines and personalize messages to your employees.
7. Shift towards year-round communication
While HR may wish to communicate benefit information more efficiently, this is one of many responsibilities that fall to their more underfunded departments. As a result, rather than distributing communications throughout the year, many companies concentrate on open enrollment to deliver their benefits of communication.
But benefits communication should not be confined to a specific time of the year. Instead, adopt a year-round benefits communication strategy to keep employees informed and engaged. You can send regular newsletters and organize webinars or sessions, encouraging employees to ask questions and provide feedback for open communication.
Regular updates, reminders, and educational materials can ensure that employees are always aware of their benefits and empowered to make changes as their situations evolve.
8. Emphasize education and training
Aside from informing them about their benefits coverage, educating them and providing ample training to use company-based platforms or portals like Healthee to navigate their benefits is essential. By actively engaging and equipping them with resources that increase their knowledge, employees can make better-informed decisions about their benefits when needed.
Optimizing HR's time and resources
Forty-nine percent of business executives surveyed by Raconteur say HR has significant influence over business purchasing decisions. This is why it's paramount to streamline HR operations and allocate resources efficiently to support benefits communication and other critical aspects of the organization's success.
Here are some strategies to optimize your time:
Use automated drip campaigns to answer employees' questions, set reminders or deadlines, and update changes and details about their benefits. 

Use a single, unified website or portal to make benefits easier to understand and point employees to different tools they would need.

Study analytics based on employee feedback to gather insights on issues and questions you need to address so you can proactively manage them.

Set up regular workshops or training events to provide opportunities to ask questions and get clarification about employee benefits.
Conclusion 
Benefits communication is not just about sharing information; it's about adding more value for your employees by building a culture of openness, trust, and concern for their wellbeing. When done right, it can make a big difference in a company's general success and reputation.
HR tools and solutions can come in handy to ensure employee benefits communication is streamlined, consistent, and straightforward. The AI-powered tool, Healthee, for example, helps simplify healthcare navigation, providing quick assistance plans, providers, costs, and more. 
Healthee helps improve health outcomes while reducing miscommunication about benefits and coverage with a step-by-step guide at every stage of the employee's health journey, allowing HR leaders to manage time and resources effectively. 
It also provides employees with personalized open enrollment answers and educational resources, taking work off your plate while empowering employees to understand their benefits better.
Make employee benefits communication more accessible and more efficient with Healthee! Request a demo to learn more.