In today's ever-changing business landscape, HR professionals remain at the forefront, grappling with a new set of unique challenges. Take the year 2020, for instance. HR teams had to figure out how to do remote work while keeping businesses up and running during the Covid-19 pandemic.
Fast forward to 2023, and the story remains the same. The challenges that HR departments face have only multiplied. From maintaining employee engagement in a hybrid workplace to managing recruitment and retention, these HR challenges, and how they are dealt with, can seriously impact a company's success. 
That's why HR leaders must adapt to the changes and develop solutions to get past these roadblocks. In this article, we'll discuss the biggest HR challenges in 2023. We'll dissect these hurdles and explore practical strategies to ensure your organization remains resilient, adaptive, and poised for success.
Identifying the top HR challenges in 2023
Understanding the top HR challenges can help HR managers handle future and current employees' needs by improving recruitment systems, increasing employee retention, and abiding by employment laws. 
Here are the biggest challenges faced by HR in 2023:
Transparency in employee compensation and benefits
Maintaining open and transparent communication regarding compensation and benefits is critical in today's workforce landscape. Recent research from Indeed shows that 68% of applicants are more likely to apply for a position when the salary range is in the listing. In comparison, Glassdoor cites that 85% of employees admit to being more likely to work for companies that are transparent about their benefits.

Legislators are responding to this desire. According to CNBC, 26.6% of our country's labor force now lives in a state where pay transparency is required. Eight states have enacted transparency laws, and another 16 are currently considering them. 
With increasing demands for equity and fairness, HR professionals, now more than ever, are aware of the value of establishing clear and accessible information channels and ensure that compensation and benefits align with market standards to foster employee trust.
Personalized benefits tailored to the needs of employees
According to Businessolver's 2023 Benefits Insights Report, over 85% of employees are still confused about their benefits. The key is to engage them by personalizing benefits sensitive to each sectors' needs.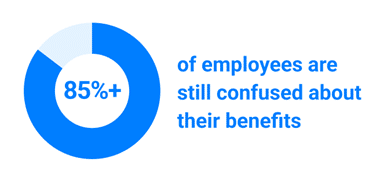 For instance, group health insurance is less beneficial than it was in previous years, given the rise in healthcare costs and emerging needs of employees when it comes to managing their health. 
Flexible packages such as reimbursements or monthly wellness allowances can motivate them to understand their benefits further and feel empowered to use them. 
Access to non-traditional benefits
While standard benefits such as health, dental, and a 401k plan are essential, different age groups and demographics value having a say in their benefits. 
For example, some employees may have difficulty abiding by an entirely on-site setup when they have kids, or perhaps a flexible schedule could be helpful for older or disabled employees who need to work around medical appointments while staying efficient in their jobs.  
Creating a safe space and recognizing that different groups of employees have different needs can help them take charge of the benefits they can use to their advantage.
Managing uncertainty
While the world is recovering from the effects of the pandemic, experts predict uncertainties like a potential recession this year. A survey revealed that 48% of Americans have layoff anxiety.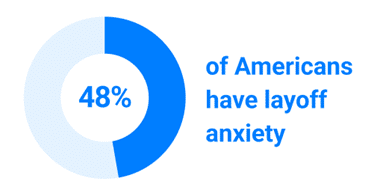 When employees feel uncertain about their jobs, it adds to the stress weighing them down. This added pressure results in fears and anxieties, harming the employee experience.
It is crucial to demonstrate transparency and manage their needs to minimize workplace uncertainty. Devise strategies to make them feel heard, have a sense of belonging and purpose, and are empowered to make crucial decisions for their jobs. 
Employees' wellbeing 
Employee stress levels are at an all-time high, and many work and personal factors may contribute. The 2023 PwC Employee Financial Wellness Survey revealed that finances have been employees' top cause of stress. 
Indeed, stress can cause additional problems. Workers who are constantly stressed and unhappy can end up less than engaged coworkers.
HR managers are under pressure to offer better and more customized benefits such as mental health services and wellness benefits that can help address these concerns.
HR team burnout
While HR is in charge of keeping employees happy, they can also feel drained. An alarming 98% of HR professionals have felt burned out recently. This can affect their productivity levels and hinder achieving the company's goals. 
One way to address this is by automating administrative or repetitive tasks to keep them focused on creating strategies for employee management.
A stronger understanding of data analysis 
Most data available for HR can be found on applicant tracking software (ATS), engagement surveys, or plain HR statistics, which can limit the information provided on benefits usage and cost savings. Other struggles include not knowing how to translate the available data and an inability to identify the appropriate metrics and targets to track.
Understanding new HR technologies or having an HR Data Analyst can help make data-driven workplace processes that implement effective organizational changes.
Reducing the number of tools
Organizations often bombard employees with multiple technologies daily, confusing staff and affecting efficiency. On the other hand, 83% of HR leaders said a lack of proper HR technology is a continuous problem. The key to solving both could be to streamline tactical work into one platform, giving HR managers more time to focus on more important things.
4 helpful strategies that can overcome these HR challenges
A strong HR team can overcome pressing challenges in the workplace with the right approaches. Here are four helpful strategies that can provide actionable solutions for the top HR challenges your company may be facing: 
Workforce management
WFM, or Workforce management, is a strategic process recognizing an organization's main priorities to proactively address challenges, reduce impacts, and maintain work efficiency.
A workforce management solution can help manage:
Payroll:

Workforce management software has features like time tracking and overtime management that let you and your employees monitor total working hours and identify overtime patterns. This means you can avoid manual, repetitive data entry and calculations, minimizing human errors and providing employees with a better understanding of their compensation.
Productivity:

The WFM solution can help streamline tools and resources needed into one platform. You can automate reports to improve HR productivity and reduce administrative costs.

Forecasting and compliance with workplace regulations: You can also use WFM to manage uncertainties in the workplace. It includes strategies like labor forecasting, where you project the number of employees and the budget needed for a project. Additionally, compliance tracking is one way to manage disputes on timecard audit trails, labor standards, and employee agreements.
Succession planning
Succession planning is recognizing crucial job roles within the organization and developing action plans for qualified employees ready to take on leadership roles in the future. 
Here's how you can assess succession planning:

Recognize critical positions needed to support business continuity if significant business challenges arise in the next 1-5 years. 

Identify core competencies, skills, and knowledge as critical metrics for success.

List employees that fit the criteria you set. 

Choose the core competencies they must meet to be successful in the position. 

Identify the knowledge and skills employees have and create a proper recruitment process.
Talent acquisition
Talent acquisition in the labor market is about assessing and recruiting the right person for a specific role. Unlike recruitment, talent acquisition focuses more on long-term human resources planning than filling vacancies. This means it is crucial to strategize ways to acquire qualified talent for essential roles. 
Identify key HR trends regarding what benefits attract talents, analyze past hiring patterns, and use predictive analytics to forecast hiring needs. These can help organizations better plan for talent needs and personalize benefits to address their concerns and increase retention.
Talent management
Talent management is a strategic process for getting the right talent onboard and helping them grow to their full potential. This is possible when their wellbeing is your top priority. Invest in wellness benefits and mental health resources to support employees just in case they are experiencing burnout, stress, and demotivation, which can affect employee retention.
Conclusion
As leaders facing HR challenges this 2023, workplace obstacles are inevitable but manageable when you have the right tools and processes in place to help assist your employees' concerns. For example, platforms like Healthee deliver fast, customized responses to employee health benefits questions, freeing you up with admin tasks while reducing costs and maintaining employee satisfaction. 
Healthee's AI-driven benefits administration technology provides your employees with personalized open enrollment answers and educational resources, keeping employees informed about their benefit coverage details and simplifying processes for your team. 
Keep your employees healthy and happy with Healthee! Request for a demo to learn more.